Our Staff
Fed staff members are responsible for maintaining and overseeing our programs and services. They must be knowledgeable and passionate about young people and are deeply committed to meaningful youth-engagement.
Please connect with any of our staff team if you have any questions about the Fed!
Shannon Dolton - Engagement Coordinator
I am so excited to be joining the Fed family as the Engagement Coordinator. I am passionate about working with youth and look forward to building youth involvement and connection at the Fed. I know when given access to tools and support youth can achieve anything they desire.
My educational background is a combination of Child and Youth Care work with Women's Studies and Gender Relations. I have had the opportunity to work with children and youth in a variety of settings including 1 to 1 home support, low barriers crisis intervention, and life/parenting skills development.
I like to think of myself as a grown up with a healthy balance of childlike whimsy and a touch of 80-year-old grandma. I am an avid tea-drinker, reader, unicorn collector and believe in the power of Wonder Woman. I am an intersectional feminist with strong ties to the body acceptance community and a strong advocate for the rights of all LGBTQI2S+ people.
I look forward to meeting and getting to know everyone!
Email Me
O: 604-527-7762 ext 109
Gabby Hillis - Manager, Indigenous Programs
I am thrilled to be joining the Fed as Program Manager for Aboriginal Youth Programs. As a former youth from care myself, I have experienced what a lot of Indigenous people have and are facing today, from trauma and loss, to poverty. I have been fortunate to take those experiences and become a strong, single, Indigenous mother, eager to help strengthen, support and advocate for youth in and from care.
I hold a B.A. in Psychology with Honours and my past experience working with Indigenous peoples includes Early Child Development, teaching Hip-Hop and collaborating with local community organizations.
My world revolves around my 2-year-old son; when we're not attached at the hip, I enjoy making espresso drinks, dancing, singing and making jewelry.
Email Me
O: 604-527-7762 ext 113
Emily Muth - Research and Engagement Specialist
I am incredibly excited to be joining the Fed as the Research and Engagement Specialist. After 6 years living and working in the Northwest Territories, I realized it was time to move back home to British Columbia. I have a Bachelor of Arts in Health Science, a Bachelor of Social Work and a Master's in Public Health focusing in Indigenous Peoples' Health. My work experience has involved working with youth and young adults in a variety of settings including: providing health promotion in schools; designing program evaluation materials; employment counselling; job coaching; and providing 1 on 1 support to young adults with disabilities.
I love to read, try new workouts (currently loving Barre), spend time with friends and family, and create new recipes. On the weekends I can often be spotted in Vancouver trying out new coffee shops.
I am so grateful that the Fed has offered me an opportunity to use my passion for social justice, research, evaluation and most importantly, working with youth. I can't wait to meet, and get to know, all of the current members, alumni and allies!
Email Me
O:604-527-7762 ext 104
Jules Wilson - Executive Director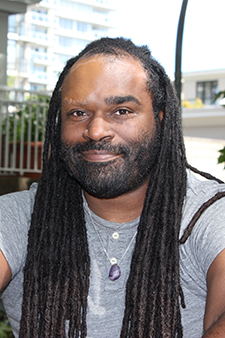 Greetings amazing young people (#youthincareareawesome), let me introduce myself – my name is Jules and I'm honoured to serve as your Executive Director! I am of Grenadian/Canadian heritage and brought up speaking French and English (although mon francais est un peut rouillee!).
My role on the staff team is to never lose sight of the big picture, keep us heading towards our goals and keep a look out for youth in and from care champions and amazing adult allies (#standwithyouthincare). I also share what I learn from members and alumni with decision makers to help them make informed decisions that relate to youth in and from care in BC.
Outside of the office, I lose myself whenever I'm caught in a good track, on a photography safari, or spending time with my partner and two year old daughter. I love having the opportunity to bring my strengths in youth engagement, advocacy and strategic thinking to the Fed and try to improve the lives of young people like you from across BC!
Ian Mass - Interim Executive Director
Ian is a long-time supporter of the Fed and has been a leader and advocate in this sector for many years. Formerly the Executive Director at Pacfic Community Resources, Executive Director of the Vancity Community Foundation, Deputy Child and Youth Advocate for BC, a program Director with Family Services, and a team leader and child protection social worker and street worker with MCFD. In addition to his extensive expierence, Ian was involved as an adult advisor during the Federation's formative years.
O: 604 527 7762 ext 114
On Special Contract:
Chris Bentzen
Graphic Design Consultant
Shannon Pawliw
Graphic Design Consultant
Helen Roberts
Organizational Development Consultant
Denise Turner
Board Development Consultant
Ann Veerman
HR Consultant