Our Staff
Fed staff members are responsible for maintaining and overseeing our programs and services. They must be knowledgeable and passionate about young people and are deeply committed to meaningful youth-engagement.
Please connect with any of our staff team if you have any questions about the Fed!
Brittaney Andreychuk
Program Manager
As a Program Manager my focus is supporting and sustaining Local Development. I'm also responsible for our Dream Fund Bursaries, Power Pages, One-to-One Support and Partners for Change—also known as BC Child and Youth in Care Week.
I'll have been a part of the Fed family and community for two years in June 2017 and what I enjoyed most about my role is witnessing and participating in young people's journey through advocacy, activism and leadership.
A little about me – I hold a three year advanced diploma in Child and Youth Work and I'm a fourth year B.A. Child and Youth Care student by distance. My experience varies from Day Treatment Facilities, Residential Treatment Centres, Psychiatric Units, LGBTQ Community Centres, Suspension and Expulsion Programs, and Youth Shelters.
Facts: Own two cats—Mango & Kiwi
Aspirations: To have travelled to 40 countries by the time I'm 40
Goals: To open a homeless shelter
Email Me
O: 604-527-7762 ext 115
M: 604-358-8234
---
Shaelyn Bayduza
Administrative Coordinator
As some of you may know, I have been a very active member of the Fed since 2013. I have taken on various volunteer roles such as: Extreme Team Member, Hiring Committee, Dream Fund Selection Committee, BCCYICW Committee, helped create promotional videos you can find on the Fed's YouTube channel and I served as a member on the Fed's Board of Directors for five months. I am now the Administrative Coordinator. In my role, I will be responsible for different operations including accounting (Paying the bills, cheques, Visas, month/year end packages, etc.), payroll, staff and board support, IT, database, answering inquiries and much, much more.
Professionally, I worked for three years as an Administrative Assistant for a realtor, a Peer Specialist at Aunt Leah's Place where I assisted young people with housing and in additional support areas, and finally, I was the Youth SCM Coordinator for the Fed in 2014 where I supported a team of volunteers to plan the Steering Committee Meetings.
It isn't only professional experience I bring to the team, but the life experience of being in care, being an Indigenous woman, facing homelessness and being low income, and also being a mother. I am your friendly neighbourhood nerd and I enjoy my retro gaming, nerdy art projects, exploring a wide variety of music genres, and trying to help people to the best of my ability.
Email me
O: 604-527-7762 ext 101
---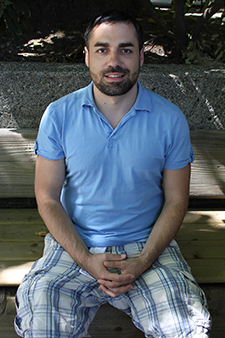 Chris Buchner
Program Manager
I joined the Network in 2009 and I feel so fortunate to get to work in a youth-driven organization with such incredible young people, staff, volunteers and community partners. At the Fed, I manage the running of Youth Retreats (SCMs), Leadership Trainings, YouthSpeaks, Staff Team Development and Policies and Procedures. Since 2003, I've dedicated my work to improving the lives of young people in various ways. I've been a champion for ensuring meaningful youth engagement, creating safe spaces and social justice.
My other passion is music. I've been playing the French horn since high school and I studied horn performance at McGill University. I play in the West Coast Symphony, the Vancouver Philharmonic Orchestra and I also freelance around the Lower Mainland.
Connect with me at any time!
Email Me
O: 604-527-7762 ext 113
M: 604-353-3521
---
Dasha Cotic-Ehn
Program Coordinator
Working at the Fed as a Program Coordinator is such an exciting and inspiring position. I strongly believe that the voices of young people are some of the most valuable resources when trying to make change, and I'm excited to be working for an organization that both recognizes and prioritizes this. Some of my responsibilities at the Fed include overseeing Power Pages magazine and our Holiday Dinner Grants program, as well as helping out in other areas such as the OGs, communications, and providing 121 support.
Over the past five years I've worked with youth, organized special events, and helped to plan the pride parade and festivals. I've also been working on my undergrad degree in Communications, which I'm excited to be nearly done! Some of my interests include cycling, art, reading and (very poorly) playing the ukulele. In the future I intend to pursue a career in law or public policy, and I'm eager to take what I learn at the Fed down one of these paths with me. I'm stoked to continue meeting as many youth members as possible so come by my desk and say hello!
Email Me
O: 604-527-7762 ext 104
---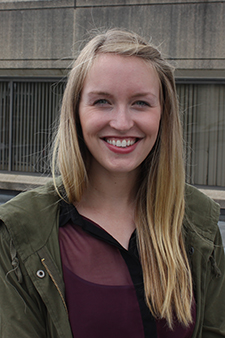 Rebecca Larder
Communications Coordinator
I am so excited to be joining this bright, warm, energizing community of young people and allies here at the Fed! I instantly felt the drive for positive change in the air when I stepped through these doors, and I am thrilled to now be a part of the team as Communications Coordinator. Working with young people to help share their stories has been a dream of mine for a long time so I am so honoured that you have given me this opportunity – thank you!
I have worked in both corporate and non-profit organizations: writing magazines, designing reports, creating websites, producing videos, working with the media and planning events. I love all parts of my job, but I chose a career in communications because I am passionate about the power of storytelling to change the world.
My life outside of work is all about doing things in the great outdoors, travelling to new places, listening to podcasts and watching old musicals.
I can't wait to meet you so if you have the opportunity to connect, please don't hesitate, come and say hi!
Email Me
O:604-527-7762 ext 112
---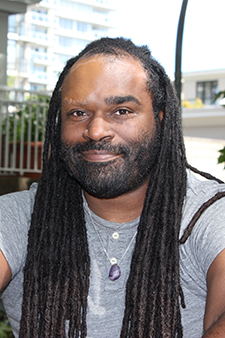 Jules Wilson
Executive Director
Greetings amazing young people (#youthincareareawesome), let me introduce myself – my name is Jules and I'm honoured to serve as your Executive Director! I am of Grenadian/Canadian heritage and brought up speaking French and English (although mon francais est un peut rouillee!).
My role on the staff team is to never lose sight of the big picture, keep us heading towards our goals and keep a look out for youth in and from care champions and amazing adult allies (#standwithyouthincare). I also share what I learn from members and alumni with decision makers to help them make informed decisions that relate to youth in and from care in BC.
Outside of the office, I lose myself whenever I'm caught in a good track, on a photography safari, or spending time with my partner and two year old daughter. I love having the opportunity to bring my strengths in youth engagement, advocacy and strategic thinking to the Fed and try to improve the lives of young people like you from across BC!
Email Me
O: 604-527-7762 ext 103
M: 778.389.9492
---
Ivan Wong
Program Coordinator
Hello everyone! I'm extremely blessed to have this role working with the strong and resilient youth in care community.
I have been engulfed by the love and compassion since I started in this organization as a volunteer in 2014. It is a pleasure for me to continue my participation at the Fed as a Program Coordinator and I hope to provide the most memorable and exciting experience for everyone! Feel free to give me some input because I would love to hear it!
I have a passion for health and fitness as well as discussions about social justice, history, politics, science and technology.
Email Me
O: 604-527-7762 ext 105
---
On Special Contract:
Chris Bentzen
Graphic Design Consultant
Shannon Pawliw
Graphic Design Consultant
Helen Roberts
Organizational Development Consultant
Denise Turner
Board Development Consultant
Ann Veerman
HR Consultant