Leadership Council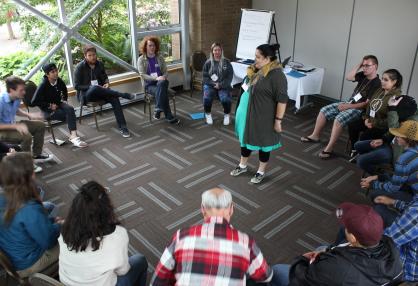 The Fed is committed to engaging and amplifying the voices of youth in and from care. The Fed's Youth Leadership Council is a brand new way you can practice your leadership skills and make sure the voices of youth are heard by the Fed staff team and decision-makers across the province.
You asked us to find new and innovative ways to connect youth members directly to Fed planning and decision-making. The Youth Leadership Council is an important first step to making sure you have a consistent and recognized voice at every planning table.
The Leadership Council will bring forward the perspectives and lived experience of youth from every region in BC: the Interior, the North, Vancouver Island and the Coast Fraser region.
The Leadership Council might be the right fit for you, if you want to:
share your knowledge of what's going on in your region and community;
bring forward the experience and perspectives of your peers in care;
develop your leadership skills; and
make a direct contribution to Fed planning and decision-making
We'd love to hear from you.
If you'd like to apply, please fill in our volunteer application by clicking the apply now button below.
If you have questions or interests related to the Youth Leadership Council, please call 604-527-7762 at info@fbcyicn.ca