Fed Connects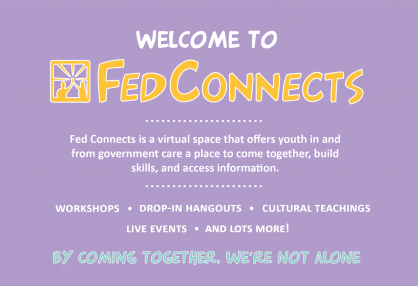 Fed Connects Update, March 16, 2022
We are gearing up for a move, so while our office is in transition and staff are busy with move-related things, we are temporarily pausing our regular Fed Connects programming. We will be back with a Fed Family Celebration in June! If anyone has any questions or would like to chat, connect with a Fed staff member.
About Fed Connects
Fed Connects is a virtual space that offers youth in and from government care a place to come together, build skills, and access information. Fed Connects hosts a variety of events, programs, and resources like Fed Family Chat, skill-building workshops, consultations, cultural teachings, talent shows and more using a variety of online platforms.
The Fed Connects program now fits with MCFD's recent temporary changes to the AYA program! For more information please connect with a Fed Staff.
Fed Connects programming is available to youth 14-24 years old in or from government care.
Fed Connects Facebook Group
Join the closed Fed Connects Facebook group! It's a great way to connect with other youth in and from care!