Fed Connects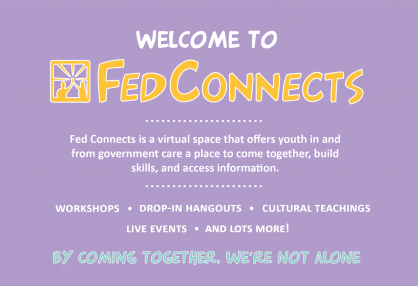 About Fed Connects
Fed Connects is a virtual space that offers youth in and from government care a place to come together, build skills, and access information. Fed Connects hosts a variety of events, programs, and resources like Fed Family Chat, skill-building workshops, consultations, cultural teachings, talent shows and more using a variety of online platforms.
Fed Connects programming is available to youth 14–24 years old in or from government care.
Creative Expression Workshop
Tuesday, November 29 | 6–8 PM
Join us for a workshop all about creative expression. Everyone is welcome regardless of whether you identify as an artistic or creative person or not. Come learn how to use art and spoken word as part of self-care and advocacy work. Sign up by Friday November 25th, 2022
Fed Family Chat
Tuesday, December 6 | 6:30–7:30 PM
Come spend some time with your Fed Family. Join us virtually to just hang out, chat, share what is happening in your life and maybe play some Mad Libs. Together we can shape how we want to spend our time together. 
Fed Family Holiday Shenanigans
Tuesday, December 13 | 6–7:30 PM
Celebrate the winter season with your Fed Family! Join us for some Winter themed games, prizes and more!
Fed Connects Facebook Group
Join the closed Fed Connects Facebook group! It's a great way to connect with other youth in and from care!
For More Information About Fed Connects
Contact Shannon
604-353-3495
shannon.dolton@fbcyicn.ca