Fed Connects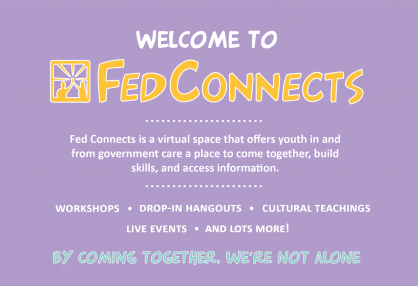 Fed Connects is a virtual space that offers youth in and from government care a place to come together, build skills, and access information. Fed Connects hosts a variety of events, programs, and resources like Fed Family Chat, skill-building workshops, consultations, cultural teachings, talent shows and more using a variety of online platforms.
The Fed Connects program now fits with MCFD's recent temporary changes to the AYA program! For more information please connect with a Fed Staff.
Fed Connects programming is available to youth 14-24 years old in or from government care.
Upcoming Events
Check out what we have coming up in Fed Connects in November! We have a special event to honour Indigenous Veterans Day with Aunty Carolyn, a Financial Wellness workshop on debt, we'll be learning to make bannock with Aunty Maria and Aunty Carolyn, and we'll be making friendship bracelets.
December Events
We just have one Fed Connects event in December, our Holiday Shenanigans event! Check out the poster for info! Register here.
Fed Connects Facebook Group
Join the closed Fed Connects Facebook group! Zoom links to Fed Family Chat are posted there, plus upcoming workshops, programs and events. It's also a great way to connect with other youth in and from care!