Holiday Care Kits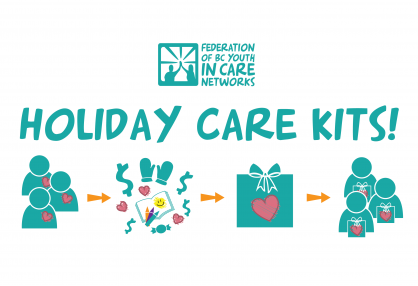 The winter holidays can be a difficult time for youth in and from care. We know many of you feel an absence of the connection and belonging that are a big part of this season for many folks. Navigating the holidays during a pandemic means that the gatherings and celebrations where you would usually spend time with community and chosen family might not be possible, so we want to remind you that you're supported and cared for this holiday season with a Holiday Care Kit!
Holiday Care Kits include items for personal care, fun, entertainment, warmth, treats, culture, self-care and more. Our hope is that this little package of goodies reminds you that your Fed Family is thinking of you and sending you love.
Check out our Holiday Care Kits Report for 2021 to see the growth and impact of this amazing program!
Donate to Holiday Care Kits!
How do you spread holiday cheer to youth in and from care all over BC? By mail! With the support of our Fed Family made up of organizations, adult allies, and other youth, we build Holiday Care Kits to send to youth in and from government care across the province! 
Show some love to the youth in care community this upcoming holiday season and donate to Holiday Care Kits!