Holiday Care Kits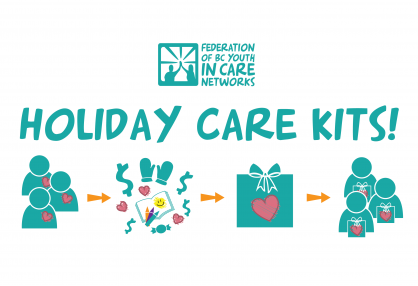 The winter holidays can be a difficult time for youth in and from care. We know many of you feel an absence of the connection and belonging that are a big part of this season for many folks.  We want to remind you that you're supported and cared for this holiday season with a Holiday Care Kit! 
Holiday Care Kits will include items for personal care, fun, entertainment, warmth, treats, self-care and more. Our hope is that this little package of goodies reminds you that your Fed Family is thinking of you and sending you love. 
With the help of our amazing Fed Family we were able to send over 500 Holiday Care Kits out last year. Let's see if we can make that happen again this year!
Check out our Holiday Care Kits Report for 2021 to see the growth and impact of this amazing program!
Donate to Holiday Care Kits!
Want to spread some holiday cheer in the care community this year? Donate to Holiday Care Kits! Any donation helps us reach our goal of 500 kits! We will be able to provide a tax receipt for anything over $10.00 upon request. 
Donate now! 
We've had a HUGE response to the program from young people. Your support will help us reach an additional 350 young people across the province (a total of 500!) with Holiday Care Kits this year! 
A $50 donation will cover a kit for one young person, but any amount helps! Donate via Canada Helps at https://fbcyicn.ca/ways-give  
Pledge a Commitment! 
Want to impact more of BC's young people from care? Organize with your workplace or community to pledge to raise a certain amount of funds or to cover a certain number of kits (each kit costs $50 to build and ship). 
Holiday Care Kit Pledge 
Complete the pledge form and we'll send you a pledge tracking poster for you to show the progress you are making towards your goal! 
How to Donate 
Donate via Canada Helps at https://fbcyicn.ca/ways-give  

You can mail us a cheque with a note to indicate it is for the Holiday Care Kits at 360-555 6th St, New Westminster, BC V3L 5H1. 

You can drop off cash at our office (address above). To ensure your donation reaches us safely, please do not put cash in the mail. 
Donate Items!
If funds are not possible you can still help! You can send or arrange a time to drop off the following items. Please drop off items by November 25, 2022 to ensure they'll be included in the kits.

*Please note that there is a weight limit of 11lbs for each kit.
Another way you can help is to help spread the word about this important project so please share in all the ways you can! If you have any questions or would like to make arrangements for your donation, please contact us at info@fbcyicn.ca or call 604-527-7762. We are grateful for anything you might be able to do this year to make the holiday season a little bit more special for youth in and from care. 
Request a Holiday Care Kit! 
Registration for Holiday Care Kits is now closed. Do you have questions about your request? Check out our Frequently Asked Questions or if you don't see the information you need, contact Taylor at taylor.burnett@fbcyicn.ca.