Power Pages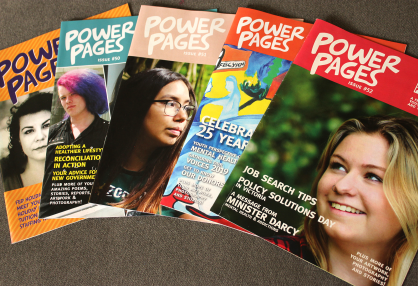 Power Pages is a provincial magazine connecting youth in and from care, service providers and caregivers across BC. Each edition has updates from the Fed and information about opportunities and resources offered by MCFD and other community partners, but the heart of Power Pages is the stories, poems, interviews, photos and artwork submitted by young people. Power Pages is a platform for young people to express their concerns and experiences, share their voice and connect with a provincial network of youth in and from care and their allies.
Check out our archive for past edition!
Get published! Submit your content to us today.
Are you a young person in or from care between the ages of 14-24? Send us your local updates, success stories, opinion articles, reports, ideas, photos, letters to government, poetry, questions and artwork to get published in the next issue! You will receive a small honorarium for every submission printed.
How to submit: There are lots of ways you can send us your work.
Fill in our online submission form and attach digital copies of your work.
Download and complete the submission coversheet. Send your completed coversheet along with your work via:
email: info@fbcyicn.ca
Facebook: FBCYICN
fax: 604-527-7764
mail: 500-625 Agnes St., New Westminster, BC, V3M 5Y4
You can submit to Power Pages anytime! But there are deadlines to get your work into the next edition. The deadline for the next edition is TBD. Missed the deadline for the upcoming edition? You can submit your work anytime and we'll save it for the next one. If you have any questions about Power Pages submissions and deadlines, call 604-527-7762, or email info@fbcyicn.ca
Our Editorial Policy
Sometimes we receive more submissions than we are able to print. In this case, we prioritize the content from youth in and from care and we may only print one piece by each young person.
Articles printed in Power Pages do not necessarily reflect the opinions of the Fed
All Power Pages submissions must follow our Values Code to be printed
See our full Editorial Policy.
Subscribe to Power Pages
Are you an agency representative who wants to get Power Pages out to the youth in your community? Subscribe to Power Pages! If you already receive Power Pages but need to update your information (mailing address, email, etc.) or the number of copies you want to receive, complete the subscription form with your new information. Contact Stephanie Thompson, Program & Communications Coordinator at stephanie.thompson@fbcyicn.ca if you have any questions.