Your Life, Your Rights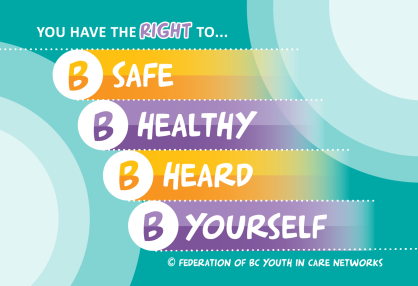 Your Life, Your Rights was developed by the Federation of BC Youth in Care Networks in consultation with young people and supportive adults. Below you will find info sheets that highlight the specific rights and responsibilities of young people based on different situations.
Rights are things that you are entitled to (they must be provided). They help you live, grow, and develop as an individual. Rights are not earned and cannot be taken away.
The Rights of ALL Children and Youth
All children and youth around the world have rights under the UN Convention on the Rights of the Child (UNCRC). The UNCRC is an international treaty that almost all countries have committed to, including Canada.
The Rights of Indigenous People
The United Nations Declaration of Rights of Indigenous People (UNDRIP) explains how the rights of Indigenous peoples – including Indigenous young people – should be protected by governments around the world. It applies to Indigenous peoples as individuals and as a group.
Youth in government care in BC have special rights under Section 70 of the Child, Family and Community Services Act. This info sheet explains each of these rights and outlines who to contact if you need support having your rights met. Section 70 rights apply to all young people in care, regardless of your care status or living arrangement.
The Rights of Youth in Custody
Young people in custody in BC (youth detention centers) have rights which are different than Section 70 rights for youth in care. This info sheet explains young people's rights and responsibilities in custody, and highlights how to make a complaint if you feel your rights have been violated.
The Rights of Youth on Income Assistance 
Young people accessing Income Assistance in BC have special rights related to this service. This resource sheet outlines your rights and responsibilities while applying for or receiving Income Assistance. It also highlights who can support you if you need help accessing Income Assistance or having your rights respected.
ADDITIONAL SUPPORT AND RESOURCES
Did you know you can also reach out to our friendly, helpful staff at the Fed! We can support you to understand your rights and help you advocate for yourself.
https://fbcyicn.ca/what-we-offer/programs/youthsupport
There are a number of other organizations and resources that can help you ensure your rights are being met.
The Representative for Children and Youth
BC's Representative for Children and Youth (RCY) advocates for children and youth in care. They can help you make sure your rights are respected.
http://rcybc.ca/get-help-now
Ombudsperson
The BC Ombudsperson looks into complaints about provincial and local governments. If you'd like to make a complaint about how you've been treated in custody, you can reach out to the Ombudsperson's office and they can investigate it.
https://bcombudsperson.ca
MCFD Complaints Process
If you are a young person in care who feels they didn't get the support they needed, were treated unfairly, or feel your rights have been ignored, you can make a complaint through the MCFD complaints process.
https://www2.gov.bc.ca/gov/content/family-social-supports/data-monitoring-quality-assurance/child-family-service-complaints/children-teen-complaint-process
MCFD Know Your Rights Guide
An MCFD resource explaining young people's rights and who can support if your rights aren't being met.
https://www2.gov.bc.ca/assets/gov/family-and-social-supports/foster-parenting/know_your_rights.pdf
Investigation and Standards Office (ISO)
The ISO investigates complaints made by people in custody.
https://www2.gov.bc.ca/gov/content/justice/criminal-jus-tice/iso
Prisoners Legal Services
The West Coast Prison Justice Society operates Prisoners' Legal Services, a legal clinic for federal and provincial prisoners in BC. They promote the rule of law within prisons and the fair and equal treatment of prisoners.
https://prisonjustice.org/
The Public Guardian and Trustee
It is the Public Guardian and Trustee's job to protect the legal and financial interests of young people in the continuing custody of MCFD or a Delegated Aboriginal Agency.
https://www.trustee.bc.ca/Pages/default.aspx